"DOULTON" – CERAMIC WATER FILTER"
HAVING GUARANTEED SAFE, GREAT TASTING PURE WATER TO USE FOR FOOD PREPARATION, COOKING AND DRINKING IS NOT A LUXURY – IT IS ESSENTIAL FOR GOOD HEALTH AND WELL-BEING.
The human body is on average approximately 60 % of water so the quality of that water is vitally important.
The "AQUA K" is a simple double filter system to safeguard from E.coli and Campylobactor, Giardia and Cryptosporidium cysts, chlorine, chemicals and lead.
Great for bachs and holiday homes with intermittent use.
No power required– just water pressure.
There is a choice of preliminary filters for the first filtration:
A 5 micron sediment filter to reduce grit, dirt, rust particles etc, or
An Activated Carbon filter to reduce Chlorine, agricultural chemicals and to improve the smell and taste of the water
📐  Dimensions: W 29cm, H 36cm, Depth 12cm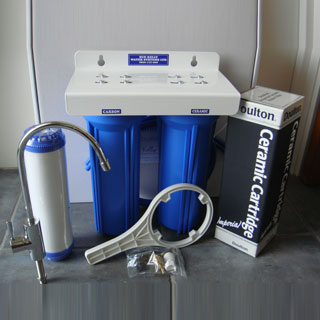 Thanks for your help with the water treatment system. It worked really well, and made a difference to our health.


AF, Christchurch

The filter is working well, last test showed no 'bugs'! Thank you again.


KP, Leeston

Dear Sue, We only got the water filter installed yesterday.
However yesterday afternoon and today we have thoroughly enjoyed drinking the high quality of water
that comes with using your water filter systems. Once again thanks. Regards


LT, Ashburton

Tuahiwi groundwater is notorious for high levels of Iron, Manganese and Hydrogen Sulphide.
With equipment supplied by Sue Kelly Water Systems, we are enjoying clean, clear water throughout our house with no staining or objectionable smell.
The Aqua K in the kitchen provides total peace of mind and protection from Bacteria and Agricultural Chemicals.


R.P.W.B

Thanks for your patience and advice while we decided on what water filter system we required and thanks for the prompt delivery.
The water tastes great – as in absolutely no taste whatsoever. I won't miss having to boil all our drinking water.
It is certainly a very professional and customer friendly service you provide


P & W, Morrinsville, Hamilton

Just love our clean water and are very pleased with the system!


R & E, Brooklands, Christchurch

We are very pleased with the water filter and with your service.
By the way we saw the water filter first at our friend's place and also got your website address from them.


B & I- Ashburton

Extremely satisfied with the kindness, speed and professional attitude with which you responded to my call and came out immedieately.
Very informative and pleasant interaction. Committed to absolute service.


DS, CHRISTCHURCH

We were both impressed with your service and product knowledge from the time I phoned to enquire about the Water Systems right
until we made the purchase. We are enjoying drinking fresh clean chemical and pesticide free water!


J & A KAIKOURA

" Thank you for your prompt, friendly and efficient service it is much appreciated. After ordering a water filter from you we were
delighted to have it delivered and installed within 3 days!! Not only that our water now tastes wonderful. Thank you for a job
well done and a big thank you to Sue Kelly Water Systems. "


J H PEGASUS

Your service has been wonderful – from my initial enquiry to installation. Your explanation of the pros and cons of the various
water filters we were looking at was comprehensive, the add-ons you provided to assist with installation, the speed of response
to my request for assistance in locating an installer to cut a hole in the bench top, and friendly service made our experience
very pleasant and trouble-free. We have been enjoying champagne water since. We will most certainly recommend your company to
others we can persuade to try chlorine-free water.


M & G, CHRISTCHURCH

The service was great- very quick delivery of filters etc. and great advice was given on what treatment was needed. It was good
to talk to a company that knows what they are talking about when it comes to the treatment of water. Thank you very much Sue'


J C WAIMATE

" What can I say? Your service and product are perfect. "


G T, AKAROA