BIRM for lower levels of Iron and Manganese
Streaks, stains and deposits.
Elevated levels of Iron and Manganese can be the most challenging of water treatment requirements as the associated staining can very quickly create deterioration of all bathroom fittings, shower enclosures, tiles and grouting, laundry and even hair colour.
Sue Kelly Water Systems Ltd has several Iron water treatment units to dramatically reduce the levels of all forms of Iron plus Manganese.
1. An American media specifically designed to reduce both Iron and Manganese by oxidation and filtration in a FRP media tank fitted with an electronic control valve that operates completely automatically with periodic backwashing and rinsing of the media to flush the oxidised minerals away.
A pleated washable fine sediment filter follows for the very last vestiges of colour.
No chemicals involved – virtually maintenance- free.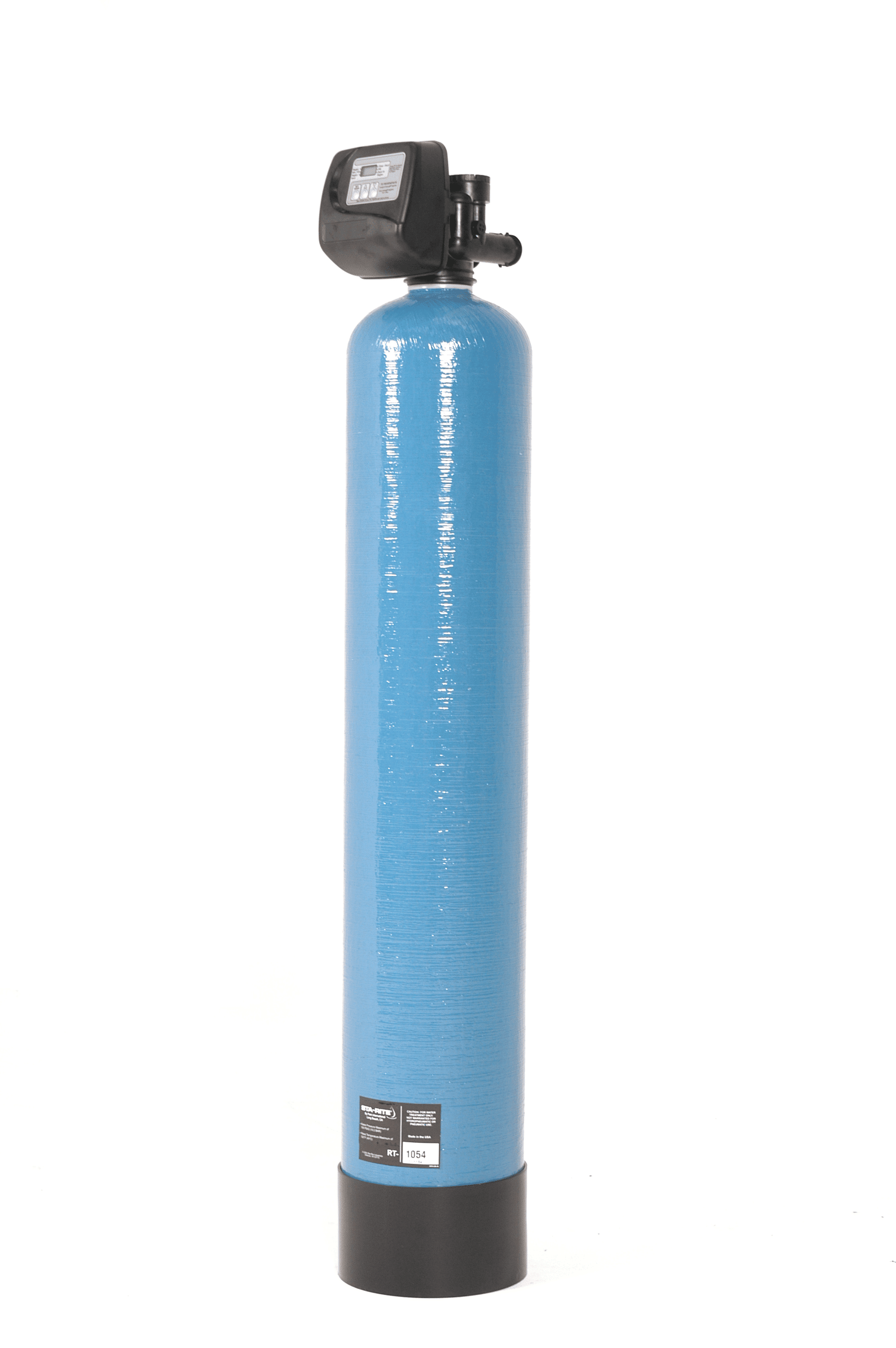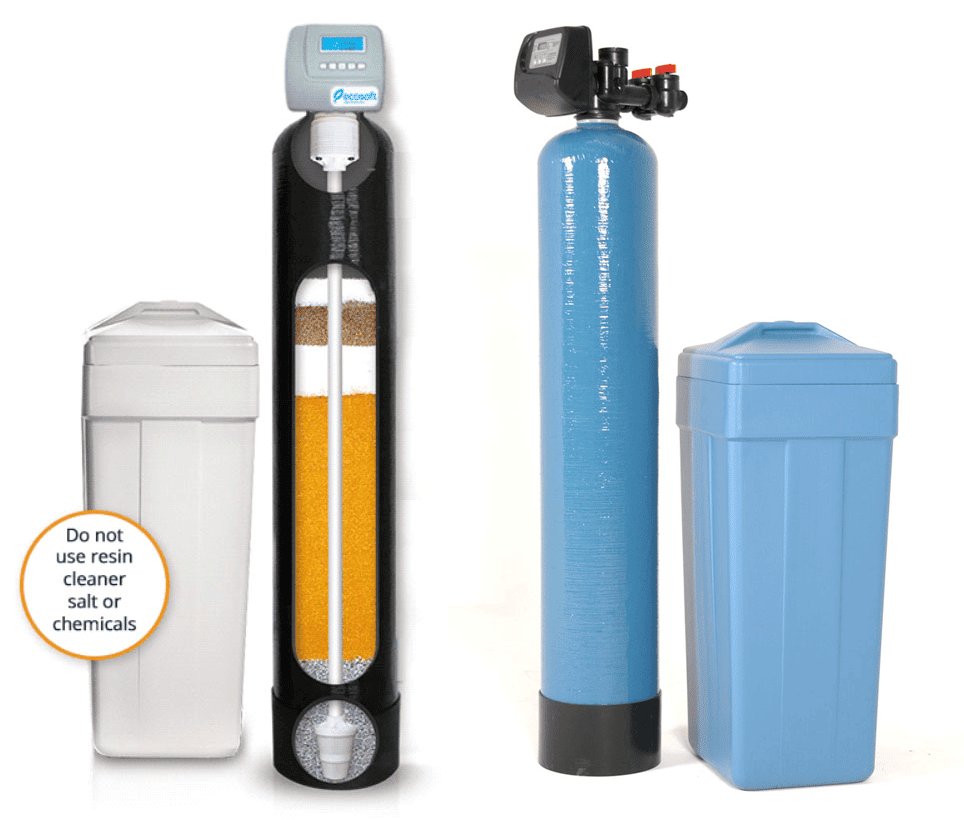 For extreme Hardness, Iron and Manganese
A European water treatment media used extensively throughout Europe with brilliant results, on extremely high levels of Iron and Manganese.
The media is only relatively recently available in NZ from Sue Kelly Water Systems Ltd.
The treatment media is regenerated with a mild brine solution but is not just Softening Resin.
The multiple water treatment medias work together to successfully treat the most demanding of water conditions and deliver incredibly high quality water for your uses. The results are spectacular!

Hello Sue, Just thought I'd send a quick email to let you know that all the equipment arrived and I managed to install it with no problems.
So far (and I presume it won't change) the water is 'perfect'. My 'white' singlet (that was partially/mostly brown)
has returned to white, the shower is white again (after a lot of scrubbing to get the rust colour off) and has not browned at all since,
and the metallic taste/smell has gone completely. Even the bath is back in use. The water even 'feels' nicer to the touch.
We're using a lot more water than we used to, and I'm not looking forward to the power bill, but it is great.
I'm now definitely convinced that a bore with a good filter system is a much better option for water supply
in this area than a huge tank like most have. Thanks for your help and service. Regards


TW, Ohakune

Would just like to advise you our water is so much better, no brown stains in the bottom of the jug any more
and its nice to see the washing nice and white with no orange colour in it. So thanks again. Kind Regards


JH, Christchurch

Dear Sue, Thank you for giving us beautifully clear water! Our house at Hanmer Springs
has had a well supplying water to the house for 42 years. The water has always contained a high level of iron that caused cloudiness,
a distinct metal taste and smell in the water. Ice cubes were always brown – not good in a gin and tonic!
As well as staining all the bathroom and laundry fittings a horrid brown / black colour, many items of clothing,
furnishings and parts of the outside stone cladding to the house are stained for life.
Now the water is crystal clear, no taste, no smell, the WC pan has been scrubbed and the iron stain has gone.
And the gin and tonics are better than ever! Thank you, Sue for changing our water supply so radically
– we appreciate it so much every time we are there.


P & P, Hanmer

Tuahiwi groundwater is notorious for high levels of Iron, Manganese and Hydrogen Sulphide.
With equipment supplied by Sue Kelly Water Systems, we are enjoying clean, clear water throughout our house with no staining or objectionable smell.
The Aqua K in the kitchen provides total peace of mind and protection from Bacteria and Agricultural Chemicals."


R.P.W.B

We recently purchased a filtration system from Sue Kelly Water Systems Ltd. Our water quality was so bad it was almost undrinkable
due to high levels or iron and manganese. The system she supplied has mad a fantastic difference to the quality of the water,
we can now drink it with confidence and pleasure. Sues advice, service and backup have been second to none
and we highly recommend her very professional company.


P & K, Little River

Hi Sue, Just like to say Thank You! Our water is now crystal clear and tastes of absolutely nothing, which I how water should taste!
We have told a number of people about your excellent service, and will continue to do so.
If you wish to use us for a reference you are more than welcome indeed. Regards,


K & Z, Kaiapoi

We found Sue Kelly Water Systems to have unbounded commitment to delivering the right solution
for us combined with a fair minded approach to doing business and the confidence to back themselves with a money back guarantee.
We have also been impressed by their after sales support in helping us bed down the system even at arms length here in Nelson


B & G – Nelson


"Just like to inform you I now have the new European Water  Media system install  at Home  in Ohoka
supplied by your company assistance. As my well water has a very high iron  concentration it is very important
my water is well filtered using an efficient system which I now have.
The water in the storage tank  is now  crystal clear when it  was  very cloudy  and the water taste is
now  very good at the tap compared to the old system .
I would  highly recommend  this system as it was  very easy to install , instruction supplied by yourself very straight forward
and  what a  great result  and what a difference in the water quality  now. Add a bag of salt  as and when required
very easy to maintain  great system. Sue once again thanks for all your help and support with the  purchase
and the assistance you and your company provided which also  allowed me to install
this system myself   which I really appreciate.


A.M.  Ohoka

Sue, Just a note to thank you for solving our water problems. As you know we have had serious Iron and more recently
Manganese problems with our water for months – if not years. Eventually the manganese levels approached toxic levels that would have damaged
our health. The iron was staining our washing, our dishes and even the side of the house. Your water softening and treatment system
has solved the problems completely and we can now drink the tap water again. Many thanks.




C&A LEESTON


" Knowing we had to improve our water quality we got in touch with you and you recommended us the best treatment
programme for our situation. You explained the process easily and were upfront with the costs involved. You were
very professional and had much knowledge of your product making the whole process straight forward and hassle free.
Thank you very much it has truly made a wonderful improvement to our water quality. "


N&S, KAIAPOI


We recently purchased a water softener and filtration system from Sue Kelly Water Systems. Ltd. Our water
quality was so bad it was almost undrinkable due to high levels of iron and manganese. The system she supplied
has made a fantastic difference to the quality of the water, we can now dring it with confidence and pleasure.
Sue's advice, service and backup have been second to none and we highly recommennd her very professional company.


P & K, LITTLE RIVER


" Your service was excellent, prompt, helpful and efficient. Thank you."


R & JD RANGIORA